[size=150]The T'Ack'Mul[/size]

Summary



The Legion of T'Ack'Mul is a work-aholic, expansion-crazy, and assertive race of 10-foot Crustacean beings. Being keen to planets full of large seas, and wet swampy areas, they usually keep themselves to those, mining the ocean's goods. But they can live on land, their movements are much more sluggish and their shells become hard to move if baked in the sun. Desert planets are an absolutely no for this species, as withering heat in the sunlight kills them much faster than any other humanoid being. They build only very large cities underwater, some small water-contained dome cities are being researched. They are interested in cyborg advancements. Be careful, the T'Ack'Mul by nature are territorial, quick to anger, and die-hard fanatics since birth.

[size=150]


History

[/size]

The T'Ack'Mul's history is full of controversy, greed, deception, and war. There was only one thing that all the quarreling nations on planet Krkk'Za had in common before the Unification, their religion. The Lights. 200 years ago, one male T'Ack'Mul and his nation rose above all others, unifying the planet with a righteous crusade for The Lights, the Unification. The Unification had one goal, place all T'Ack'Mul under one Prophet of The Lights.

Many nations who were allied with this one Prophet's country forfeited themselves to him. All others who cried it was blasphemy and lies were met with the sheer force of the combined armed force of the new unified country. The Legion of T'Ack'Mul. Being so bold to name itself a Legion of all T'Ack'Mul, many objected, a war lasted for 11 years, The Legion ending up successful. The Prophet crowned himself Overlord Mmner'Krotzz, leader of all T'Ack'Mul.

The Legion began rebuilding of all it's major cities, which took several years. Once the planet of Krkk'Za was once again rebuilt and under control, the Overlord acted on colonization. The first planet to take was Kravvnk, which was really one of the 3 life sustaining moons orbiting Krkk'Za. Kravvnk was colonized 50 years before the Unification, the miners who had been sent there cut off their ties with their original countries long ago, and formed the Techno Miners Union. The TMU made the planet into a huge industrialized factory, almost half of it covered in a series of linked factories built in coexistance with huge marvelous cities, the other half mining facilities and sparse farms. The Legion launched a strike on the TMU, and Kravvnk fell, the TMU did not expect the Legion to have such a formidable force from it's 11 year war, and did not build an army sufficient enough to defend itself.

Then, the other moons fell, the frozen ocean moon of Innmra, and the swamps and seas of Zotew.

The Legion then developed the Anti-Gravity Wormhole Allocating Generator, or A-GWAG. In short, it could take the Legion further into the stars then they could even imagine..

The Legion now operates mysteriously, hiding from most races and only dealing directly with other shady planet-nations and empires. Earth knows almost nothing about them.


[size=150]

Culture

[/size]

The T'Ack'Mul are a extremely proud race, making them extremely easy to offend. You can figure their basic instincts by looking at mere fiddler crabs. Greedy, territorial, and quick to fight. Ofcourse, it's not uncommon to find one that can hold it's temper.

The Legion has brainwashed most all of it's subjects with propaganda, and banned outsider media from being broadcasted. The T'Ack'Mul people believe that each new Overlord is the "Reincarnation of The Lights" and is a demi-god and has complete dictatorship power, and that the Light-Bringers Council are all knowing and their word is to be respected. There are some few rebels and terrorists who can see past the ruse, but they are few with the Legion's successful propaganda campaigns.

The Legion supports any kind of government job. Mining the ocean's metals, farming exotic sealife for trade with other nations, working in productive factories, and military duty or forced conscription is considered an equal honor for any T'Ack'Mul.

Education is widely encouraged for those who wish to surpass their comrades and become elites in the workforce, military, or government. The literacy rate however is 80%, not what the Legion would like right now.

Ranking up in the military can be done normally, or by challenging a higher rank. A T'Ack'Mul can challenge a higher ranking officer to the death, if he succeeds he takes his place. The outcome of the lower rank winning is rare, and cheating in honorable challenges is blasphemy.

There are a few pieces of body language that should be known.

The chest thump -- A T'Ack'Mul will beat it's dominant claw against their exoskeletons, making a loud resounding thumping sound, they will often do it in unison with other T'Ack'Mul. It is a sign of respect when you thump your dominant claw once against your chest and bow to someone, so it is the military's salute. It is also a sign of aggression to your enemies, rapidly slamming your claw against your chest while grunting, clicking, and whooping will signal that your adrenaline is pumping and you're ready for a fight.

The claw snap -- A T'Ack'Mul will snap it's dominant claw at extremely fast speed, creating a resounding crack. It is often used to restore order or signal someone to shut up.



[size=150]

Naming and Language

[/size]

The Language of T'Ack'Mul is compiled of grunts, clicks, and some forms of vocalization. Poggle the Lesser from Star Wars the Clone Wars or the "bugs" from District 9 mixed together would be the T'Ack'Mul language. The T'Ack'Mul can manage some other languages such as human common, but must strain their primitive vocal cords.

Names usually have double letters, such as
Yott'ra
(Yawt*click*raw)

Ikkyr
(Ickyer)

Naming favors pronunciations that are akin to the letters Y, I, K, R, A, and V. A T'Ack'Mul name would have atleast one of those letters.

An apostrophe signifies a click that the T'Ack'Mul make in their everyday language, the most apostrophes a name should have would be around 2, such as

Yrkkzz'Ca'Trok.
(Yerkzz*click*Cah*click*Trock)[/size]

[size=150]

Physical and mental info

[/size]


The T'Ack'Mul are born from eggs, from birth, they go through 4 stages.

Birth -- 2-3 foot long shrimp-like larvae, soft exoskeleton, not yet sentient.

5-6 years -- Lose birth appendages and shed exoskeleton into new, harder one. Develop advanced pincers and hooves. They now look like adult T'Ack'Muls only in a smaller form, about 4-5 feet tall. Bluish-white.

FEMALES Have a softer shell that can excrete a slimy mucus over their body. Adult females are only 7-8 feet tall and because of their softer and thinner shell they are much more flexible. Also, because they have mucus over their shells at all times, they can stand being in more extreme land-conditions than male T'Ack'Mul.

Continuation, goes for males only.
6-75 years -- Slowly grow to around 9 feet. Lose pincers in fights and duels, grow back into bigger ones. Outer skeleton keeps shedding into thicker, larger one. Blue-white shell.[/size]

Spoiler:

75 years -- Develop advanced, large, and extremely sharp pincers, along with 4 extra smaller dexterous ones on their abdomen. Exoskeleton sheds much thicker, and turns a brownish red color.

Spoiler:

They can then live on to around 110. years.

Their mental capabilities are average with a sentient race, while they can be extremely intelligent and witty, it is not uncommon to find a T'Ack'Mul who didn't do well in the educational phase of their propaganda.
[size=150]


Subspecies.

[/size]

While the regular Kravvnk and Krkk'Za T'Ack'Mul are plentiful, there are some subspecies that have developed slightly different physical traits from the main race.

Innmraian tundra T'Ack'Mul -- The Innmraian T'Ack'Mul had relatives that were sent to colonize the seas of the cold moon of Innmra. They are slightly smaller, usually by 1 foot. Their carapaces are a dark blue color, and their spines are lined with bright bioluminescent bulbs, as little light goes through the thick ice over the oceans of Innmra. Innmraian T'Ack'Mul that enlist or are conscripted are often put in an elite unit that specializes in extremely cold temperatures. The military took interest in the Innmraian cultural fighting style, N'Tal. N'Tal not only effective against most other species, but it details various ways to cripple and kill a T'Ack'Mul opponent, and the military incorporated it into their training facilities. The Innmraian tundra T'Ack'Mul makes up 20% of the T'Ack'Mul race.


Spoiler:

Zotewian mud T'Ack'Mul -- The Zotewian T'Ack'Mul had relatives who colonized the swampy planet of Zotew for food production purposes. The Zotewian T'Ack'Mul are relatively the same size as normal T'Ack'Mul. Their carapaces are a mix of a dark green and brown. Their claws are much stronger and larger than an average T'Ack'Mul, as there are many tough creatures that lurk in the planet, but their smaller adult ones usually never grow to more than little useless stubs when they become 75. The military also took liking to the subspecies' potential. Zotewians had perfected the ways of ambush and stealth, which was helpful to many top secret projects the Legion would develop in the future. Zotew is still a dangerous planet to live on, and as such the Zotewians are fewer, around 15% of the T'Ack'Mul population are the Zotewian sub specie.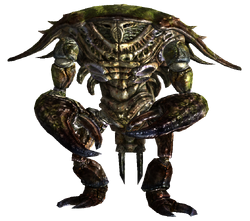 Member





Posts

: 11


Join date

: 2012-01-13



I'm going to go ahead and throw my approval towards this, but the thing about them being territorial makes me kind of nervous. I'm cool with them as long as every planet we visit isn't 'property of the Legion'. That being said, I wouldn't mind them showing up on many planets I just don't want them to own them or have a large amount of military assets there.

If a few others give their approval I'll go ahead and make it official.
Founder




Posts

: 110


Join date

: 2011-05-04



Gotta throw my approval here too since you've obviously given these three races a lot of thought and backstory.
Lead Server Admin




Posts

: 34


Join date

: 2011-05-06


Age

: 28


Location

: Finland, baby.



Jackercat wrote:I'm going to go ahead and throw my approval towards this, but the thing about them being territorial makes me kind of nervous. I'm cool with them as long as every planet we visit isn't 'property of the Legion'. That being said, I wouldn't mind them showing up on many planets I just don't want them to own them or have a large amount of military assets there.

If a few others give their approval I'll go ahead and make it official.
Well it's really up to the admins to decide if there's going to be a "legion threat" present or not.
Member





Posts

: 11


Join date

: 2012-01-13



True that, but sometimes people decide to go ahead and take control of events and throw their own shit in when it's not appropriate, but since you don't seem to be one of those people I don't think that'll be a problem. This is canon now.
Founder




Posts

: 110


Join date

: 2011-05-04




---
Permissions in this forum:
You
cannot
reply to topics in this forum